How do I pay DStv in South Africa?
There are several DStv payment options that you can choose from when making your DStv subscription payment, and one of which is through debit order. What this means is that you give DStv a standing order to deduct your subscription charge from your bank account every month. You can also use the Unstructured Supplementary Service Data (USSD) method to pay DStv. If you have an account with FNB, Nedbank, Standard Bank or Absa, you will be able to pay through the USSD code.
READ ALSO: How to Open a Capitec Bank Account
Other methods are using the QR code which you can find online and on your MultiChoice statement through your internet banking, the link that comes with the subscription reminder SMS which you get from them, or through credit card payment at any Agency or Service Centre. You can also pay at an Absa branch or via the ATM. The MultiChoice banking details are available at the bank for your use.
DStv online payment
Like others, DStv has made subscriptions easier for everyone who enjoys their service, and so, instead of subscribing through their agents or locating the nearest bank around to make a payment, you can do that online. With this, the stress, pain, and whatever hardships you go through before you subscribe are adequately taken care of. Also, South Africa's big banks such as Nedbank, Capitec Bank, Standard Bank and FNB who have online and cellphone banking services for their customers have also made the monthly subscriptions easy.
With the DStv self service platform, making your monthly DStv payment has become a lot easier. More so, the exciting aspect of it is that not only can you pay for your subscription, you can also make payments for other people. Should you also be overseas, you can also pay (depending on the country that you operate from); all you have to do is to get the details of the person that you want to pay for and verify on their portal to ensure that you are paying for the right person.
How do I pay DStv Online?
If you are concerned with how to pay DStv online, bear in mind that you can pay through their official website or your bank's online banking platform (if it is one of the enabled banks).
DStv payment online through the official website
Your first option is paying through the official website of the company, and to get that done, the following are the steps that you can take:
First of all, visit the official website of DStv.
Under Services, choose "Make a secure payment" option.
After you have been redirected, select your country and also enter your Smart card number.
Then, you will see a captcha text which you should carefully enter, and afterwards, click on the "Verify" button.
Check the amount that you are expected to pay by clicking on "View balance and pay" option on the payment summary page.
Then, click on the "Pay button", and after that, you will see the Payment Subscription page containing specific information on your account.
Select "eTranzact payment" as your option and then BankIT. Enter your bank account number, and after that, you will be given a 6-digit generated password.
After you have filled it in, click on submit. Dial *389*00# with the phone number that is registered with your bank account to receive an OTP.
Enter the code in the required place and click the "Pay' button. Once you have done all these, you should get a response stating the successful completion of your subscription.
DStv payment using cellphone banking
Another option available to you when paying for your DStv subscription is to use the cellphone banking app. Although not all the banks' apps like the Absa cellphone banking app have the DStv payment option, the enabled ones have the DStv banking details preconfigured on their apps. By implication, you do not necessarily need to go in search for their account details before the payment is made; following the steps helps you to get things done without stress. Here are the steps to follow for some of the banks that offer the service:
READ ALSO: How to Pay Dstv using Capitec Mobile App
How to pay DStv online using Capitec bank
These are the simplified steps that you can take to make your DStv payment with Capitec cellphone banking:
Once you are logged in on the mobile app, choose "Transact".
Then, select "Payments", and after which, you will enter your secret Remote PIN to sign in.
Select "Add Beneficiary" (you will find this at the bottom side of the screen).
Also, select "Capitec-registered" from the options and enter DStv.
Select the correct account (either Multichoice DStv or Box Office DStv).
Next, input your DStv account number and once you have done that, select "Next".
Enter the amount of money that you want to pay and then select "Pay".
Input your secret Remote PIN to effect the transaction, and then you will be good to go.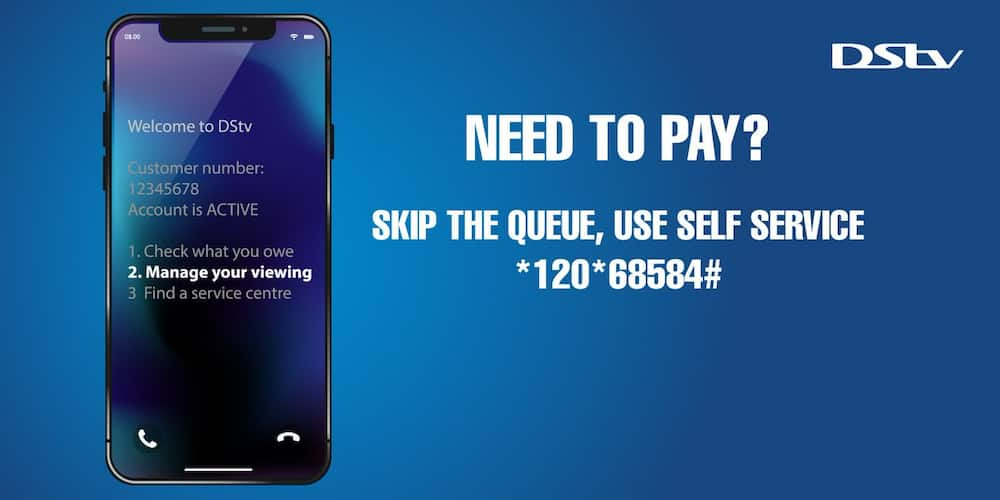 Nedbank instant payment
How do I pay DStv via Nedbank? Here is how you can go about that using "My eBills" from Nedbank:
Step 1 – Log on to your Nedbank internet banking portal.
Step 2 – Choose the "My eBills™" option.
Step 3 – Then, choose the "Subscribe" option and also from whom you would like to receive the bill.
Step 4 – Pick the "Pay Bills" option and then scroll through the list of all your subscribed bills, and select DStv.
Step 6 – Lastly, submit the payment, and you are good to go.
DStv contacts
In case you encounter any difficulty, you can always visit them at any of their centres, or you can contact them on the phone using the following DStv customer number depending on your location:
Randburg centre
Address: Corner Oak Avenue and Grove Street,
Ferndale,
Randburg
Tel: (011) 289 2222
Cape Town centre
Address: MultiChoice Customer Centre,
Willie Faasen Avenue,
N1 City
Tel: (021) 508 2222
Durban centre
Address: Sky Towers,
275 Anton Lembede Street,
Durban Central
Tel: (031) 710 2222
Umhlanga centre
Address: The Glass House,
309 Umhlanga Rocks Drive,
Umhlanga Rocks
Tel: (031) 710 2222
Centurion centre
Address: Lakeside Building A,
First floor, Gordon Hood Road (next to Centurion Mall)
Tel: (012) 422 2222
From the information that has been shared above, you will see that life is now made easier with the latest DStv payment options that have been made available to subscribers. Depending on your choice, you can make do with any of the payment options that are available to you. And guess what? With these options, you do not have to stress yourself to pay and more importantly, you can enjoy the service without any interruption.